Real Estate Law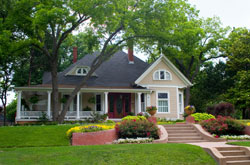 Real estate law covers a vast array of issues related to the ownership and use of both residential and commercial real estate. The most common concerns in residential real estate are the sale or transfer of real estate, leasing and renting, lot-line disputes and adverse possession. Additional concerns in commercial real estate include land use planning, zoning and condominium development and management.
We assist buyers and sellers in drafting and reviewing offers to purchase, land contracts, mortgages, warranty deeds and quitclaim deeds to ensure they contain the exact terms and contingencies needed protect our client's rights. We also assist landlords in commercial and residential real estate by drafting and reviewing leases to fit our client's unique needs, evicting tenants who have failed to meet their obligations and collecting unpaid rent.  Contact us so we can make sure your next real estate transaction is done right.
Call us at (608) 756-5541 or email us at info@www.franklaw.us. We look forward to hearing from you.