Wills, Estate Planning, and Probate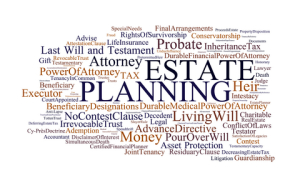 Estate planning is the process devising a plan for the handling and distribution of an individual's assets during their life and upon their death.
Basic estate planning includes preparing a Will which declares how one's assets should be distributed upon their death. Basic estate planning also includes creating Powers of Attorney to ensure an individual's property and health care decisions are handled according to their wishes in the event they are no longer able to make those decisions on their own.
The most common of the more complex techniques is creating Trusts to minimize or eliminate estate taxes.  Trusts can also be used to avoid the need for probate, provide support for a beneficiary with special needs without disrupting their government benefits, or provide support for a beneficiary who is financially irresponsible in a manner that ensures the support is used for its intended purpose.
There are a myriad of options when it comes to estate planning, and everyone should have their estate plan created or reviewed by a qualified estate planning attorney.  Many attorneys push their clients into unnecessarily complex estate plans that accomplish little other than to increase the attorney's fee and their client's confusion.  At Frank Law Office, our goal is to create a plan that meets our client's objectives, but is also easy to control.
Call us at (608) 756.5541 or email us at info@www.franklaw.us so we can put a plan together for you.