Bankruptcy / Debt Relief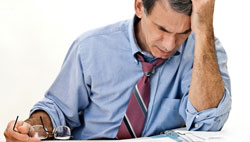 Financial stress can come from many different places. Past due debts such as credit cards, auto loans, medical bills, personal loans and utility bills often result in a never-ending stream of harassing telephone calls and threatening letters from collection agencies and their attorneys. Past due mortgage payments will result in threats of foreclosure and displacement from one's home. Eventually these debts lead to lawsuits, repossession, foreclosure sales and wage garnishment.
When faced with these types of financial stress, it can feel like there is no way out. At Frank Law Office, we will take the time to understand our client's entire financial situation and develop a plan to put an immediate stop to the stress our clients are feeling. Our bankruptcy attorney will first explore non-bankruptcy options to solve our client's financial problems. However, Chapter 7 Bankruptcy most commonly results in the quickest and most effective way to put an end to the financial problems for good. In some cases, Chapter 13 Bankruptcy can provide superior relief than that of Chapter 7.
You can get started today by contacting us to setup a free bankruptcy consultation with our bankruptcy attorney.
Call us at (608) 756-5541 or email us at info@www.franklaw.us so we can start working on a plan for you.
Frank Law Office is a debt relief agency. We help people file for bankruptcy relief under the Bankruptcy Code.